What's in your refrigerator? A bunch of unhealthy crap. I didn't take a photo of my freezer because there are so many frozen breakfast things that it's disgusting. Eggo this Aunt Jemima that, pancakes, waffles, toaster struedles, it's bad you guys. The regular refrigerator part isn't much better but at least it's slightly organized, which the freezer looks like an adult version of tetris. I'm proudest of that middle row in the refrigerator. The row of fresh fruits and veggies. That row (with exception of the eggs) belongs to the kids. They can eat from that row any time of the day, any day of the week. I just stocked it Wednesday.
~~~~~~~~~~~~~~~~
Valentine's day was welcomed with happy things. I volunteered in Joey's classroom with some tutoring and then 'worked' in his classroom for the V'day party. I went home for a quick bite to eat then I was back at school for Isabella's V'day party. I met the mom of the boy that Isabella has a bit of a crush on. She's so sweet and she's a homeschooling mom. Good to have her in my memory. The boy is her youngest (by several years) and she's just trying out the public schools for him. He is such a sweet boy and his mom was the nicest person there.
~~~~~~~~~~~~~~~~
So do you think it was North Korea or really a meteorite, asteroid, or whatever NASA is calling it? Do you think it is Bush's fault or Obama's fault? These are the questions that are coming up in the comment sections of the thing that messed up the morning in Russia today.
~~~~~~~~~~~~~~~~~~
Have I blogged about the 40 bags in 40 days thing? I'm not on the official roster for that but I'm working on cleaning some junk out of the house. Since I'm baby free 2 days per week, I've been going down to the basement and spending some time down there. I've cleaned out roughly, I don't know.......8 or 9 bags. Some of it was trash and some of it was taken to Goodwill as soon as it was bagged up and the kids are none the wiser. Same goes with Kevin. The less they know the less they care and the better it is for all of us. So glad to get rid of a few bags of crap. I'll work on that again next week. One day it'll be clean down there !!!!!!
Mostly drinks and dressing and junk food/drink.
Join Mrs. 4444 For More Fragment Fun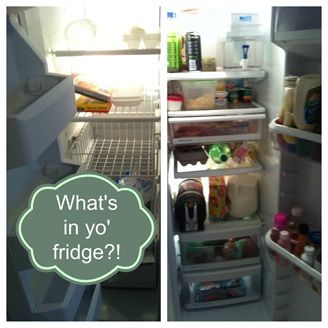 To add your fridge photo click here and find out more.